Avian flu may have killed millions of birds globally as outbreak ravages South America
Virus has spread around the world, with 200,000 wild birds dead in Peru alone and concerns Australia could be next.
Millions of wild birds may have died from bird flu globally in the latest outbreak, researchers have said, as the viral disease ravages South America, with 200,000 deaths recorded in Peru alone.
The highly infectious variant of H5N1, which gained momentum in the winter of 2021, caused Europe's worst bird flu outbreak before spreading globally. The disease reached South America in November 2022, and has now been reported on every continent except Oceania and Antarctica. Working out how many wild birds have died is difficult because so many carcasses are never found or counted. Michelle Wille, from the University of Sydney, co-authored research that is believed to be the first attempt to assess numbers on a global scale. It documents deaths since October 2021. "We estimate the scale of mortality among wild birds is in the millions rather than tens of thousands reported," the paper says. "The outbreaks among wild birds are causing population and species level concerns which may drive extinctions and jeopardise decades of conservation efforts," it adds.
More than 40% of all Peruvian pelicans dying over a period of a few weeks in early 2023. More than 100,000 boobies have died and 85,000 cormorants, according to Peruvian government data. Wille said: "South America has been incredibly hard hit and the numbers are staggering … Outbreaks are having very real species and population-level effects, such that there is concern that some populations may never recover. The situation is extremely distressing.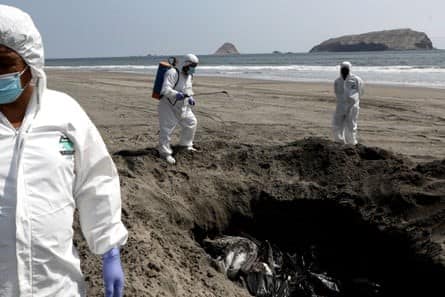 "We are extremely concerned for what will happen in spring [in the southern hemisphere] as the virus has now been detected in Tierra del Fuego, which implies an increased risk for the virus to emerge in Antarctica."

Peru has been very active in recording deaths from bird flu, but other countries have been less open about what is happening, said Ian Brown, director of scientific services at the UK's Animal and Plant Health Agency (Apha). For example, Brazil – the world's biggest chicken meat exporter – was one of the last countries to confirm it had cases in wild birds, six months after reports from Peru. There is also an issue with countries not having enough resources to report on the impact of the virus, Brown said. "I would be cautious about saying Peru is a particular hotspot … it's probably not alone."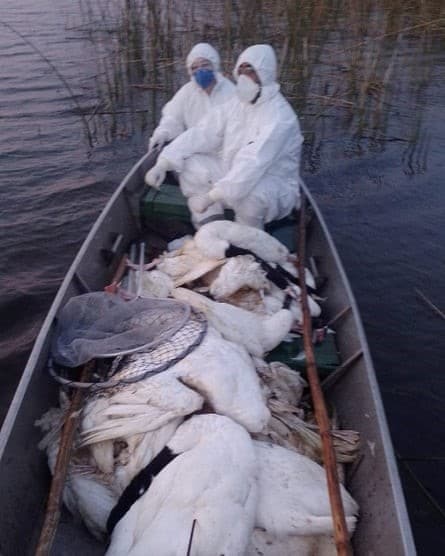 He added: "What's happened is that this virus has found its way into South America for the very first time. In Europe, and to some extent North America, we've had cases like this in the last few years … so they will build up some immunity. But birds in South America have not seen this virus before." This may explain why mortality rates are so high.
Elsewhere, significant population impacts around the world include 17% of sandwich terns dying in Europe in 2022; 40% of south-east European Dalmatian pelicans dying in 2021, and 62% of Caspian terns breeding on Lake Michigan dying in 2022.
Data shows the disease has also been detected in Indonesia, with concerns its next stop could be Australia. "That's the first time in the history of this virus, or group of viruses, that we've seen that global spread on such a scale. It's a gamechanger," said Brown.
Europe is now on its second breeding season with H5N1. The virus hasn't changed, but it has affected different birds in Europe this year compared with last year.
Black-headed gulls across the continent and in the UK have been hit badly, as well as terns. Nationally, 10% of black-headed gulls have died since the end of March, which means at least 30,000 dead individuals, not including the many thousands of dead chicks, according to James Pearce-Higgins, director of science at the British Trust for Ornithology (BTO). "There have been tragic tales of people seeing dead black-headed gulls with chicks trying to nestle up to them."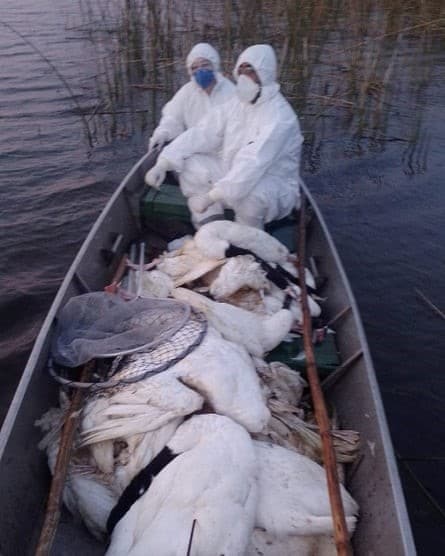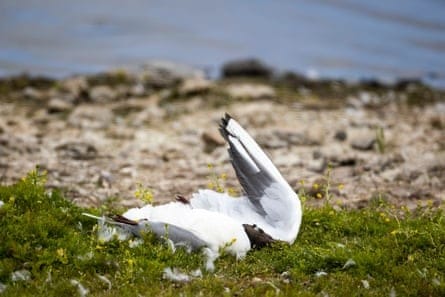 The two species, terns and black-headed gulls, nest in similar places and close together, making for easy disease transmission between them. "The picture I've given you is a microcosm of what is happening across Europe," said Pearce-Higgins.
Other birds have been less badly affected. Northern gannets and great skuas – which were severely hit in 2022 – appear to have had very few deaths this year. Early research suggests some have immunity but others simply may not have been exposed.
Researchers still don't know what proportion of individuals are able to recover from bird flu, how long that immunity lasts and how much protection it gives. In gannets, it appears darker eyes indicate the bird might have some immunity.
Although UK seabird breeding colonies have not been as badly hit as last year, a number of outbreaks have occurred in recent weeks. Earlier this month rangers described their "heartbreak" at discovering more than 600 dead chicks at Britain's largest mainland Arctic tern colony in Long Nanny on the Northumberland coast. There has also been an increase in cases in north Wales, with reports of dead terns, herring gulls and puffins. Hundreds of birds have washed up on the east coast of Scotland.
Last year, there were widespread impacts on a number of species, with data collected by the Guardian showing H5N1 had killed at least 50,000 wild birds – double previous estimates. The effects of last year's outbreak are now being felt on the number of birds returning this year.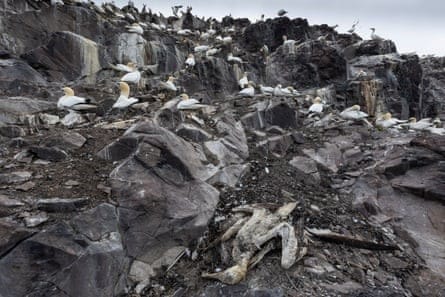 Early signs from Scotland suggest great skuas in Shetland have been hit particularly hard, according to Nature Scot. At one reserve, Hermaness in Shetland, 90% may have been lost, suggesting "significant breeding population declines" compared with last year, the agency said. Scotland has 60% of the world's population of great skuas.
Looking at UN surveillance data it appears Europe still has more cases than anywhere else but that will be down to reporting. Brown said: "Gaps on the map do not mean the virus is not there. Look at central Asia [where] there are big holes, in parts of Africa there are big holes, and that is simply because there isn't surveillance being done.
"It would be premature to say this current strain of H5N1 is going to die out any time soon … We are facing an international crisis."